:07 Seconds or Less
By Jack McCallum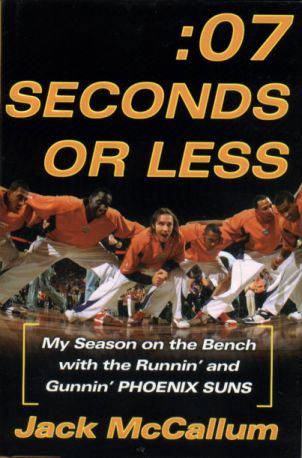 Ranking:
My favorite type of hoops book involves a writer writing about a team for a year. If the writer is on the inside, it is even better. Cameron Stauth's The Franchise has been the standard by which all other's have been judged (at least on this website). That may have just changed -- that is how good this book is.
McCallum's rep as a NBA writer was established a long time ago in Sport's Illustrated. This book started out as an article for S.I, then turned into a book. McCallum was allowed into coaches meetings and allowed to travel with the team.
The cast of characters is intriguing. There is 2-time MVP Steve Nash, 6th man of year Boris Diaw, insecure superstar Snawn Marion, defensive ace Raja Bell, and injured superstar Amare' Stoudermire, among others. The coaches are the stars: head coach Mike D'antoni (architect of the fast-paced Phoenix offense that stresses putting up the shot within 7 seconds), his brother Dan, defensive coach Marc Iavaroni, well traveled Alvin Gentry, and the ever-optimistic Phil Weber. There planning, strategy sessions, personalities, and interactions shine through.
Every game and almost every day of the playoffs are covered. A few regular season games are mentioned. The weaknesses of the book are that so little of the regular season is covered (numerous stories and insights were lost) and the players' histories could have been covered in more detail. The first may have been because the author did not travel with the team all season - perhaps because he was writing other articles for S.I. The last was because the book was more focused on the coaches. This is unfortunate, since the NBA is a player's league. That is why Stauth's book is still the standard.
However, the view from the coaches is unique and very well detailed.
Introspection: N/A
Insight: 5
History: 2006
Readability: 5

:07 Seconds or Less: My Season on the Bench with the Runnin' and Gunnin' Phoenix Suns. Jack McCallum. A Touchstone Book. 2006