Values of the Game
By Bill Bradley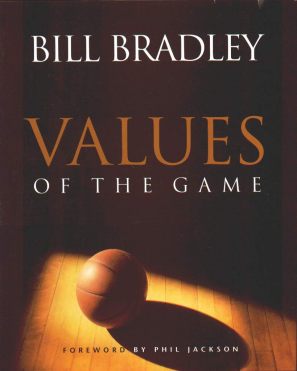 Ranking:
Another gem from the man who brought us Life on the Run. In this book, he looks back on his life and realizes what a profound impact his basketball experience played on his life. He shows the values that the game of basketball teaches you in the following areas: passion, discipline, selflessness, respect, courage, leadership, responsibility, resilience, and imagination.
He gives examples from his own life growing up in Missouri, and with Princeton and the New York Knicks. He also gives examples from players he admired growing up, such as Bob Petitte and Bob Cousy; players he played with, such as Willis Reed and Walt Frazier; players he played against, such as John Havlicek and Bill Russell; and players of today, such as Allen Iverson, Stephon Marbury, and Michael Jordan.
The chapters aren't long. They move at an enjoyable pace. He tells about the value and then gives his examples to demonstrate his points, and makes a conclusion, followed by a brief description of other attributes, such as teammates, defeat, and role-playing, writing a paragraph or 2, with photographs of players who demonstrate this value. There is enough information to give you good material to think about, without being bogged down by a thesis on the topic.
Simply a wonderful book.
Introspection: 5+
Insight: 5
History: 1952-98
Readability: 5

Values of the Game. Bill Bradley. Artisan. 1998.