Charlotte Hornets
By Rick Bonnell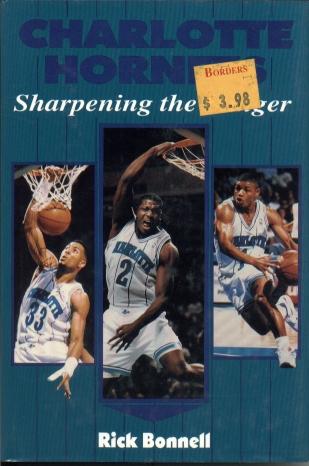 Ranking:
I held off reading this book for years. Some of what I expected was true, but I was also pleasantly surprised.
I had long suspected the book was a way to make a quick buck in a regional context. The book came out in the fall of 1993, a few months after the Hornets made the playoffs for the first time and were the toast of the town. I do not doubt it was true - strike while the iron is hot.
The book chronicles the 1992-93 season and to a far lesser extent, the 5-year history of the franchise. The story covers the unpopular owner George Shinn and the team president Spencer Stolpen and head coach Allan Bristow, and then goes through the difficulties of the team signing rookie Alonzo Mourning, the growing pains of the team, the playoff run, the playoffs, and the attempts to unload disgruntled guard Kendall Gill.
One year chronicles are my favorite type of stories, so it was enjoyable. Bonnell was a sportswriter for the Charlotte Observer. He brings an interesting voice not seen in many of these type of books, being a member of the media (who many players look down upon). He finds stories, does his research and shows some of the human side of the players. The downside is that he is not on the inside nearly as much as authors of these type of books. At the same time, he is able to be more objective, for instance, he focuses a lot on Bristow, but is not afraid to point out tactical errors (due to inexperience) and mistakes in handling certain situations.
From a purely journalistic standpoint, he does a fine job of staying more objective. From an author's standpoint, it was enjoyable, but not nearly as much as other books in this type of basketball book.
Introspection: N/A
Insight: 3
History: 1992-93
Readability: 3

Charlotte Hornets: Sharpening the Stinger. Rick Bonnell. Sagamore Publishing. 1993