Foul! The Connie Hawkins Story
By David Wolf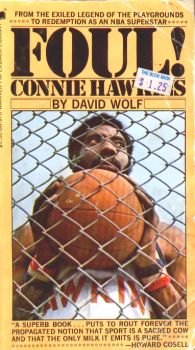 Ranking:
This book is one of the basketball "classics," and for good reason. The book tells the story of Connie Hawkins, who maybe the greatest player to ever play basketball, yet the world will never know. Hawkins grew up in the Bedford-Studyvant project of New York. He was shy, dirt poor, and not very intelligent. However, he did have an amazing gift in his basketball abilities. He was 6'8" and handled the ball like a point guard. He could leap and had huge hands. He had superior ball control and became, along with Elgin Baylor, the first of the high-flying acrobats (before David Thompson, Julius Erving, and Michael Jordan).

He ran around with Roger Brown (of ABA fame) who introduced him to Jack Molinas, a man of low standards who fixed basketball games. Hawkins borrowed money from Molinas during his freshman year at Iowa University (who paid Hawkins handsomely), and Hawkins paid him back. Freshmen were ineligible to compete back then (early 1960s), so Hawkins never threw any games. That spring, the college basketball point-shaving scandal of the early 1960s broke, and Hawkins was called back to New York, by the NY DA, because he knew Molinas. The DA violated a lot of Hawkins' rights, and would not let him see an attorney. Hawkins kept telling him the truth, but that wasn't illegal, so the DA threatened to throw him in jail if he didn't tell them what they wanted to hear. Scared (and not intelligent enough to realize a bluff), Hawkins made up what they wanted to hear. However, Hawkins never could tell the same lie twice, and his testimony was never used. However, he was listed as one of the participants, and was thrown out of Iowa (after they suckered him into signing a letter saying they never paid him) and was blacklisted from the NBA.

Hawkins spent years with the Globetrotters and bush leagues. The book tells of his 6+-year legal battle to join the NBA and his years growing up and playing in the schoolyards (where he became one of the all-time playground legends) and in the bush leagues. It covers his first year with the Phoenix Suns in detail, and then lightly touches on his next 2 seasons.
What makes this book so wonderful is not only the detail, but also the honesty. Hawkins comes across as a man of deep feelings. Many of his frailties are exposed, but this only makes him out to be stronger, not weaker. This book is written so in-depth, it's hard to believe it is a biography. I hear this book was required reading at New York schools. If that is true, it is justified. Every basketball fan owes it to himself or herself to grab a copy of this book and read it. I don't know if larger book retailers can order this. If not, you may have to look in the 2nd-hand bookstores.
Introspection: 5
Insight: 5
History: 1960s
Readability: 10
Foul! The Connie Hawkins Story. David Wolf. Warner Paperback Library. 1971.