The Franchise
By Cameron Stauth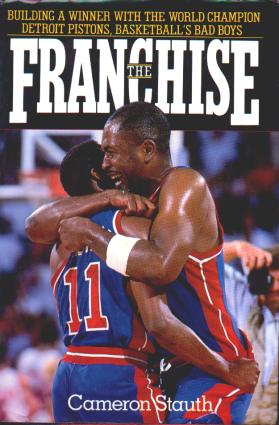 Ranking:
This is the first basketball book I ever read. It's also maybe the best--certainly top 5. The author was allowed inside the brain trust of the Detroit Pistons for an entire 1988-89 season, which happens to be the season they won the first of their back-to-back titles and also their first season in the Palace. You see how the team chemistry is blended, how the trades are pulled, how the GMs think, how the college talent is evaluated. You learn how franchises try to entertain audiences and just how much of the NBA is a money-making business. You see how Pistons' GM Jack McClosky tries to win a title, without trading away the future. You see how beat writers try to pry stories out of players who give generic answers. You see the locker rooms and how players interact with one another at practice. You learn the REAL reasons behind the Adrian Dantley for Mark Aguirre trade. You see how McClosky agonizes over the coming expansion draft, knowing he can only protect 8 of the players in the the Piston's 9 man rotation. You see the rookie camps and how guaranteed contracts sometimes count more than talent. You see how McClosky built a team specifically to beat the Boston Celtics. In other words, you learn all about the behind-the-scenes workings of a championship-caliber NBA franchise.

Be forewarned, the language is strong, as you find out that players like Rick Mahorn are very vulgar. Otherwise, this book is one of the all-time classics.
Insight: 5+
History: 1988-89
Readability: 5

The Franchise: building a winner with the world champion Detroit Pistons. Cameron Stauth. William Morrow and Company, Inc. 1990.