Give 'Em the Hook
By Tommy Heinsohn and Joe Fitzgerald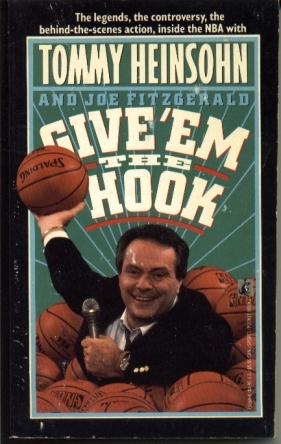 Ranking:
I bought this book and did not read it for 9 years. The reason why was the title. I thought it was a reference to his broadcasting career -- stating disapproval of a player's performance through a catchphrase. My fault. It is a lament about how players refuse to shoot the unstoppable hook shot.
This book was a very fast and enjoyable read. It is biographical, historical, and editorial. He tells about his upbringing, playing career, coaching career, business career, and broadcasting career. He never pulls punches concerning his disdain for overrated college coaches and especially Hubie Brown (a recurring theme in other books) - and he backs up his arguments with facts.
He goes into detail about playing with legends like Red Auerbach, Bob Cousy, Bill Russell, and Bill Sharman, as well as coaching hall of famers like John Havlicek, Jo Jo White, and Dave Cowens. He covers management, all-time favorite players, the players union (he was a former president), and marital difficulties for the NBA player.
He has a very interesting perspective. First of all, he was such a well-rounded person: he's a hall of fame player, the second president of the players' union, a 2-time champion coach, a successful businessman, and a television color commentator. He's also an artist, and he relates aspects of basketball and life to art. He's also intelligent, using phrases and examples that you are not used to reading in this genre.
Too bad the book didn't have a more descriptive title.
Introspection: 4
Insight: 4
History: 1956-1988
Readability: 5

Give 'Em the Hook. Tommy Heinsohn and Joe Fitzgerald. Pocket Books. 1988