Glory Road
By Don Haskins and Dan Wetzel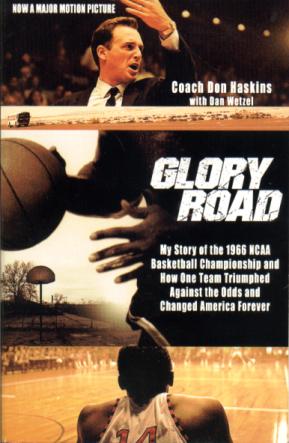 Ranking:
This book was an extremely enjoyable read. Don Haskins is a breath of fresh air in that he's the most unpretentious coach I have ever read. He coached at small Texas Western (later called UTEP) and never moved up the ladder to greener pastures, preferring the people and city of El Paso.
He is very old fashioned at heart, learning basketball from the legendary coach/taskmaster Henry Iba. From there he moved onto small coaching gigs in the Texas panhandle. He then got the break at Texas Western where he unintentionally became a pioneer by heavily recruiting African-American players. He was molded by befriending a very good African-American player growing up and then coaching in a border city where ethnicity just wasn't a big deal. In 1966, he made history by coaching a team in the NCAA tournament finals with 5 African-American starters and defeated an all-white Kentucky team. What is not often told is the after-effects, and he did suffer from his peers and the press.
Haskins tells of all of this, as well as his stories about recruiting, pool hustling, growing up, retiring and much more. The story was made into a movie in 2006.
Introspection: 4
Insight: 4
History: 1950s-Early 2000s
Readability: 5

:07 Seconds or Less: My Story of the 1966 NCAA Basketball Championship and How One Team Triumphed Against the Odds and Changed America Forever. Don Haskins and Josh Wetzel. 2006