Miracle on 33rd Street
By Phil Berger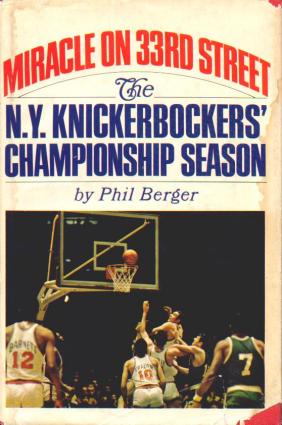 Ranking:
This book is on many "must read" basketball lists. I knew it was a classic when I bought it 14 years ago (23 years after it was published). That put it on a high pedestal, and was unable to deliver on these lofty standards.
This book is far different than the other 1-season books. Most cover numerous games and details from them. This book highlights a few games, most of them in the playoffs and very few from the regular season. What he does do is outline the individual players everyday lives, such as how they spend their time on the road, how they deal with fans, women, race relations, and such. It is very interesting from a human-interest standpoint.
However, it lacked a lot of on-the-court detail, which was a bit of a shame. If you are wanting to learn about the Knicks' incredible season, it is not a good place to start, but it is a good supplement to other books that discuss the season in more detail.
The lack of basketball detail knock it down a star. The other knock is that there are a lot of pop references, and unless you were alive and well in 1970 (I was alive, but I was into bottles of milk and learning to walk), it is hard to grasp, and takes away from the readability. If you are older, this is not a problem, but this review is about what I took away from it.
Introspection: 3
Insight: 3
History: 1970
Readability: 2
Miracle on 33rd Street: The New York Knickerbockers' Championship Season. Phil Berger. Simon & Schuster. 1970