In the Land of Giants
By Tyronne "Muggsy" Bogues and David Levine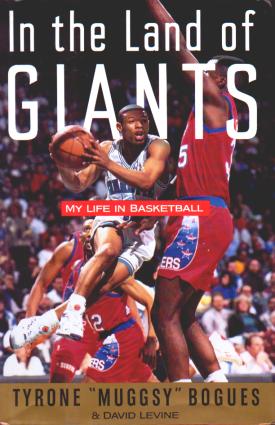 Ranking:
This book is pretty solid. Bogues covers his life's story and covers the different eras in his life without by-passing ones that weren't favorable. He tells of growing up in the projects, playing for the legendary Dunbar High School team in Baltimore, arguably the greatest high school team ever, which featured Reggie Williams, Reggie Lewis, and David Wingate. He tells of his dream of joining Williams and Wingate at Georgetown, only to not be recruited by Georgetown coach John Thompson, and settling on Wake Forrest. He tells of his 4 years at Wake Forrest, where he became the first athlete there to receive an award (I forget which one) since Arnold Palmer. In Wake's match against Maryland, in order to neutralize Maryland star Len Bias' driving ability, Wake's coach opted to put 5'3" Bogues on 6'8" Bias, and Bias had his low scoring game of the year.
He also tells about his first year in the NBA, when he rarely got to play at Washington, and how Moses Malone was a mentor to him. He also tells of the going to Charlotte and how his first coach there, Dick Harter didn't believe in Bogues and rarely had a good word to say about him. He goes into how eventually became a full time starter and how the team blossomed after drafting Kendall Gill, Larry Johnson and Alonzo Mourning. He also tells of Gill's anti-team sentiments that he felt after his shot attempts started decreasing as the team got better. He also covers their playoff series with New York and Boston and the grief he felt after his long time friend, Reggie Lewis, died.
He also tells how he succeeds, in spite of being 1-2 feet shorter than most of the players on the court. He does suffer, somewhat, from a Napoleon complex and often refers to himself in the 3rd person. He also starts off nearly every chapter with quotes from others about himself, but it usually points to the extraordinary accomplishments of succeeding at the college and pro levels at such a short height. The book is somewhat witty and somewhat insightful and pretty enjoyable. The fact that he has beat such long odds, alone, make it an interesting read.
Introspection: 3
Insight: 4
History: 1982-1993
Readability: 4

In the Land of Giants: My Life in Basketball. Tyrone "Muggsy" Bogues and David Levine. Little, Brown, and Co. 1994.