John Starks: My Life
By John Starks and Dan Markowitz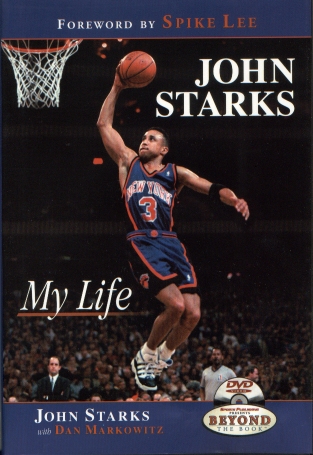 Ranking:
One of the things I look for in a basketball biography is a person with an interesting story. John Starks certainly qualifies.
He only played two games of high school basketball. He attended four different colleges. He had a job at a grocery store and two years later he was playing in the NBA.
His career will always be remembered by two events. The first was "the dunk" from Game 2 of the 1993 Eastern Conference finals against the Chicago Bulls. The second event was Game 7 of the 1994 NBA finals, when in the biggest game of his career, Starks shot 2-for-18. He goes into candid detail about these two events to open the book and then discusses them in more detail as his story progresses chronologically to those events.
He spends a lot of time telling about his upbringing in North Tulsa, Oklahoma, where his mother had seven children by six different fathers. She brought home violent men who beat on her. They moved around a lot from poverty and went without food at times. Two of his brothers served jail time for drugs. Starks himself, sold and used them as well.
He grew into a street ball legend in Tulsa, and after holding his own against NBA players in exhibitions, he got his chance at Oklahoma State University. He was picked up as a free agent by the San Antonio Spurs before moving on to the Golden State Warriors. He played there one year and had a contentious relationship with Don Nelson.
After spending time in the Continental Basketball Association, he was picked up by the New York Knicks. Starks goes into detail about how he made the team, and then his eight years with the Knicks under coaches John McLeod, Pat Riley, Don Nelson (for the 2nd time), and Jeff Van Gundy. He also covers his seasons after the Knicks, where he spent time with the Warriors (again), the Chicago Bulls, and the Utah Jazz.
He goes into how his brother JuJu went to prison and accepted Christ as his savior, and how Starks also came to give his life to Christ. He tells about his life after the NBA, where he has coached in the United States Basketball League.
As an added bonus, the book features a DVD with added interview footage. The DVD is a bit disappointing, because it doesn't add anything that the book did not show. I was hoping it would show, for instance, the video clip of "the dunk", but instead, it just shows still shot photos included in the book.
Overall, it is a worthwhile story. He is candid and honest, quick to admit his faults as well as his heroics. It tells a more complete story of a guy who has been both praised an vilified by the press.
Introspection: 5
Insight: 4
History: 1989-2001 (NBA timeframe)
Readability: 4

John Starks: My Life. John Starks with Dan Markowitz. Sports Publishing LLC. 2004.