My Life
By Earvin "Magic" Johnson with William Novak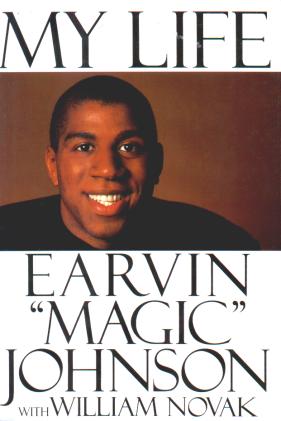 Ranking:
This is a well-written autobiography. This and his other book, Magic's Touch are nice compliments to each other. The chapters are broken into 3 parts: Growing up, the Laker years, and Now. He tells of growing up, and how he learned to pass: he was so dominating that other parents used to get upset that he scored so much, so he started passing off, and developed his passing ability. He tells of winning the state basketball championship, of the recruiting process, and his 2 years at Michigan State, where he won a National Title his last year.
In the next section, he looks at the Laker years: the 5 titles, his disastrous performance in the 1984 finals, the problems he had with Paul Westhead, and the teammates he played with and the opponents he played against. He devotes a chapter to Larry Bird, the Celtics, Pat Riley, and Michael Jordan/Isiah Thomas. He also has a chapter called "Women and Me" in which he does his best Wilt Chamberlain impersonation of his sexual conquests. It seems extreme, and it maybe a backlash to all of the homosexual accusations after he announced that he was HIV-positive. This chapter seems out of the continuity and character with the rest of the book.
He tells of learning that he was HIV-positive and how he learned to accept it and the growing process of readjusting his life. He told of his all-star reappearance in 1992 and his experience at the summer Olympics, as well as his home life sense and his role as an AIDS activist, along with how disappointed he was in President Bush's commitment to the cause.
The book is very well written. It maybe because of the co-author, William Novak, who is experienced at writing biographies. It's a solid, honest look at the life of one of pro basketball's most visible figures.
Introspection: 4
Insight: 3
History: 1978-1992
Readability: 5
My Life: Earvin "Magic" Johnson with William Novak. Random House. 1992.