Pistol: The Life of Pete Maravich
By Mark Kriegel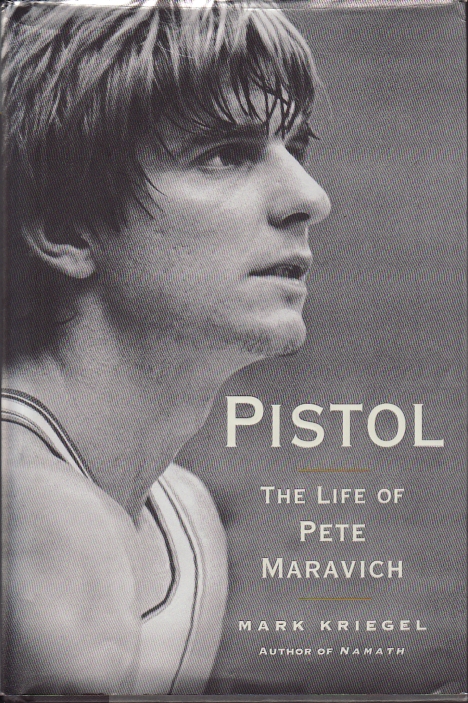 Ranking:
I saw this book for over a year and had no interest in it because I had read Maravich's autobiography Heir to a Dream. How would a stranger know more about Pete Maravich than Pete Maravich? But, I ended up buying it off the cheap shelf and I'm glad I did.
The story of Maravich is unique because you can't tell it without telling the story of his father, Press Maravich, because they were joined at the hip. Press was an old school coach rooted in the fundamentals and devised a lot of unique drills for his growing son. He was a pioneer for people like Marv Maranovich. He created a ubber-basketball player. However, instead of creating the most dominant player ever, he created the most flashy player. His goal was to make Pete the first million-dollar basketball player, so he trained Pete to throw outrageous passes, as opposed to say, learning defense. When he coached Pete in college, he threw out everything he believed (team play and strong defense) and instead used blatant double-standards, all to make sure his son received individual glory and scoring titles.

Meanwhile, Pistol Pete felt the burden of living up to the legend he was becoming. He was not socially adept, yet suddenly, he is idolized by millions. He faced resentment from teammates and resentment from old school opponents. He drank heavily and became depressed as he felt he could never live up to what others wanted, before finding redemption through Jesus Christ.

Why is this book worth reading? Combined with Maravich's autobiography, it provides a three-dimensional look at the man. Maravich's autobiography is more sanitized. You can't expect him to harshly criticize the man he idolizes, even when it seems obvious. Mark Kriegel researched Pistol Pete and Press' lives in detail, interviewing countless others and telling the story from an outsider's view. Kriegel's a very good writer, and he wrote one of the better sports biographies.
Introspection: 3
Insight: 5
History: 1957-1990
Readability: 4

Calling the Shots: My Five Decades in the NBA. Earl Strom with Blaine Johnson. Simon & Schuster. 1990.