I Love Being the Enemy
By Reggie Miller with Gene Wojcieckowski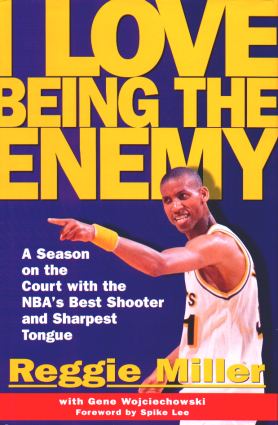 Ranking:
Actually, this book should be called "I Love Being a Butt Kisser." Lots and lots of duplicity here. He likes to put on false bravado of how great he is and how he likes being everybody's enemy -- the name alone implies that, along with the trash talk, but when you get inside, he's a lot more tame. Yeah, he hates John Starks, but when the Knicks beat the Pacers in the the 1994 Eastern Conference Finals, he congratulated Starks and told him to keep the title in the east...not such a "enemy" after all. Not that that's bad, just not fitting with the theme (now Bill Laimbeer...HE loves being the enemy). He also smooches up to Michael Jordan and Larry Bird and acts like a pupil towards Chuck Person. His trash talking isn't as funny as you would think. His stories about Larry Bird talking trash on Chuck Person are much funnier.
He covers his life in this book. He doesn't talk much about his college days at UCLA, though. He does talk about his sister Cheryl. The book however, is a diary of the 1994-95 season: the year the Pacers beat the Knicks, but lost to Orlando. He spends a lot of time justifying why he won't meet his coach, Larry Brown's wishes, and take over more on the offense. He keeps saying he doesn't feel his role is to shoot more. That seems to say a lot about his qualities as a team player: not fulfilling his role in the coach's game plan. He says good things and bad things about Brown. (He did have a funny, and probably true, line about Brown: Larry's not happy unless he's unhappy). He does talk at length about his hatred of the Knicks. He also goes into his relationship with Spike Lee and his thoughts on the virtues and roles of trash talking, along with who is good at it and who isn't.
It's an o.k. book, but it isn't as good as the topic (Miller) and the title would imply.
Introspection: 2
Insight: 2
History: 1994-95
Readability: 5

I Love Being the Enemy. Reggie Miller with Gene Wojcieckowski. Simon and Schuster. 1995.