Season of the 76ers
By Wayne Lynch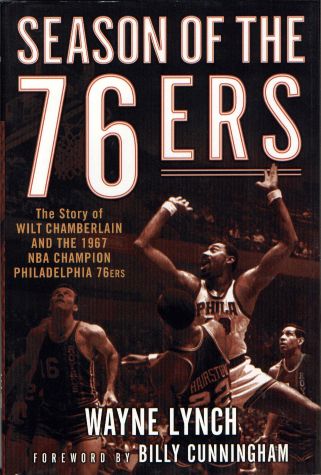 Ranking:
This book chronicles the 1966-67 season of the world champion Philadelphia 76ers, arguably the greatest single-season team in the history of basketball.
The author starts the book by putting the season in perspective. For example, how the city of Philadelphia lost the Warriors to San Francisco in 1962 and how local businessmen purchased rival Syracuse Nationals and moved them to Philadelphia, changing their name to the 76ers. The city was slow to embrace the team, even after they traded for native son Wilt Chamberlain. The author also chronicles Chamberlain's many frustrations in losing playoff series to the Boston Celtics.
With this background, the author goes month by month highlighting games and standings, and then separates chapters for each playoff series, climaxing with the Conference Championship series against Boston and the anti-climactic finals against the Warriors.
He then briefly covers the next season and the subsequent dismantling of the team. He provides of brief history of the franchise up to their 1983 championship and then rates the 1967 team against the greatest teams in history and concludes with the interviews with the surviving members of the team that he was able to interview and provides an appendix of the 1968 season program.
Nice review of a team not known by many. He is a serious homer - Philadelphia's answer to Boston's Peter May. When an author refers to players by their first name (Wilt, Billy, etc) while detailing history, it doesn't have the informality of historical books and screams of slanted opinions, but hey, he never claims to be unbiased. It would have been great to have got a few more interviews, but when some players (such as Chet Walker) refuse to give them, there isn't any more he can do.
Since the Sixers are my team, and Wilt is one of my favorite players of all-time, I enjoyed every page. If you are familiar with the era, it is a wonderful trip. If not, it is an educational experience.
Introspection: 1
Insight: 2
History: Primarily 1966-67, with mentions of 1968, some before and some after.
Readability: 5

Season of the 76ers. Wayne Lynch. Thomas Dunne Books. 2002.