ShowTime
By Pat Riley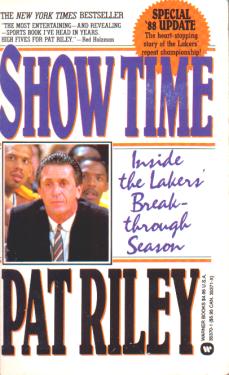 Ranking:
This book is an inside look at one of the greets teams in history: the 1987 Los Angeles Lakers. Riley tells the story of the season. It starts with the disappointing upset they had at the hands of the Rockets in the 1986 Western Conference finals. The book isn't a diary. He's looking back over the season. That is actually a disadvantage. Riley gets into his own motivational theories too much. If it was on a day-by-day basis, I think it would be written more honestly.
He goes over the decision to put the offense less in the hands of Kareem Abdul-Jabbar and more in the hands of Magic Johnson. He also covers the acquisition of Mychael Thompson and the Lakers refusal to join the Twin Towers Fad. He hits the high points and low points. The games they shouldn't have lost as well as their impressive road wins. A solid book, overall.
Introspection: 4
Insight: 5
History: 1981-88
Readability: 4

Show Time: Inside the Lakers Breakthrough Seasons. Pat Riley. Warner Books. 1988.