Wilt
By Wilt Chamberlain and David Shaw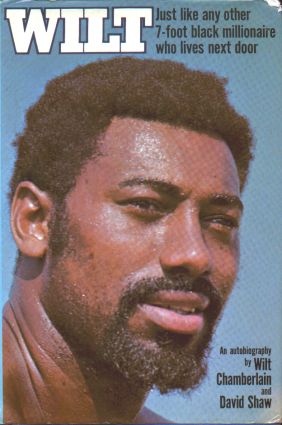 Ranking:
I'm not exactly the most fair and impartial judge for this book, since Wilt Chamberlain is one of my favorite players of all-time, but here goes:

Excellent book. This is a history lesson on basketball in the 1960s and early 1970s. He writes the book after his final season, 1972-73. (At the end he is contemplating retirement of joining the ABA, both of which he did). The book is your basic autobiography: Starts at youth and goes to the present. What makes this different is that Wilt was such an extraordinary person and the most dominating player in NBA history (that's not opinion, that is fact, the numbers back me up).

Wilt tells of growing up, the recruiting (during one of Wilt's stints at Kutsher's country club, Red Auerbach tried to convince him to go to Harvard, so Boston could select him as a territorial selection -- though Red didn't tell Wilt this, he told Wilt about Harvard's wonderful business school). He tells of his college years at Kansas: The games, the money and the car he received from the university, his injury, his track career, his radio show, his partying, etc). He tells of his year with the Harlem Globetrotters and the worldwide travel. He covers his NBA career year-by-year. He goes through his accomplishments along with the front office screw-ups, such as the Warriors moving an up-and-coming contender (took Boston to 7 games in 1962) to San Francisco, only to see 8 of the 12 players and the coach refuse to travel, and sending the franchise back to the drawing boards.

He makes many valid points, such as Bill Russell had stability in his career: He played under one coach during his first 10 years and a loyal organization that kept the core players there and developed the chemistry. Wilt played under 8 coaches and 5 of them were incompetent (as they proved by failing with every NBA team they coached). He played for the Warriors, who moved their franchise and had to rebuild. Then while the Sixers built a powerhouse, the owner died, only to be followed by a man of low integrity who didn't honor his commitments, forcing Wilt to demand a trade, of which GM Jack Ramsey gladly did, dismantled a team that averaged 65 wins a year for 2 seasons (this is one of the reasons I have such a low opinion of Ramsey). Wilt covers how injuries (Cunningham, Greer, and Guokas in the 1968 playoffs) and terrible play from others (Elgin Baylor in the 1969 finals) and incompetent coaching (Butch Van Breda Kolff game 7 of the 1969 finals) were blamed on Wilt, because as Wilt said, "Nobody cheers for Goliath." Some would call this complaining, but when you read his side, you find it is hard to dispute with his points. After all, who calls Hakeem Olajuwon a loser, even though he also lost in the NCAA finals, with the greatest team to never win the title (whereas Wilt played with stiffs at KU)?. Hakeem also "only" won 2 titles and unlike Wilt, Hakeem's teams got beat in the first round (16 team playoffs) 4 consecutive times and during the 5th year, they failed to even MAKE the playoffs. Hakeem played with Barkley and Drexler and couldn't even go to the finals. Relative to the players in their league, this is comparable to Wilt's 1969 Lakers losing the Celtics while playing with Elgin Baylor and Jerry West in a 7 game finals (vs. a 6 game conference final, to a team that only had 2 hall of fame caliber players, whereas Russell's had 4).

Wilt also covers his many off-court interests. Some idiots think that a player who has outside interests are not committed to the game, yet justify Michael Jordan's passion for golf and interest in baseball. Wilt enjoyed architecture (and goes into detail on the fabulous house he build in the early 1970s), fine dining, racing, track and field, volleyball, and many other things, including women. (He goes into some details, but this isn't where the famous "20,000" line came from). Wilt walks the fine line between confidence and bragging in this book. The definition is in the eye of the beholder and usually based on your opinion of him is. The same holds true of Michael Jordan saying "When I have the ball, you are at my mercy." Bragging or confidence? Is it bragging if you are telling the truth?

What I found interesting is that in this book, Wilt is bitter toward the comments of Bill Russell and uses this book to take many pop-shots at him. At the same time, he is holding up for Kareem Abdul-Jabbar, because he can identify with Kareem, since he is the 70s "Goliath" that nobody cheered for. In his next book, A View from above, he holds up for Russell (they seem to have made amends) and takes shots at Kareem.

If you like Wilt and want to know more about him, this is the book you should read. It also makes for excellent reading on the 1960s and early 1970s basketball, as well.
Introspection: 3
Insight: 3
History: 1955-1973
Readability: 5

Wilt! Wilt Chamberlain and David Shaw. MacMillan Publishing Co, Inc. 1973.