Yao
By Yao Ming and Ric Bucher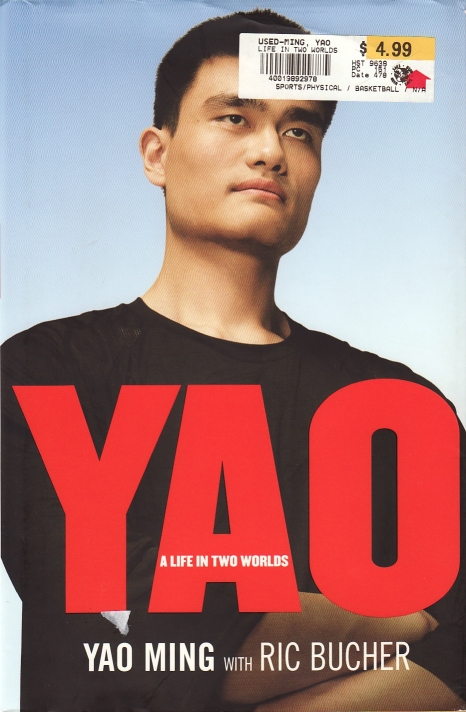 Ranking:
When it comes to basketball autobiographies, I have taken the attitude of a curmudgeon: young players have little that I am interested in. They haven't lived long enough for me to care what they think and they haven't been in the NBA long enough to have good war stories and insights. So for me to read such a book, it had better have something special or interesting.
Yao Ming provides the interesting factor to make me want to read his book, namely the study of two cultures for the perspective of a foreign player. I learned more about Chinese culture than I ever learned before and it was interesting to see how he was received in America and the lessons he learned translating his culture and his game to the United States and the N.B.A.
Yao was not the first Chinese player in the N.B.A, but he was the first high-profile (first round pick). He wasn't the first foreign-born #1 pick in the draft (Mychael Thompson, Hakeem Olajuwon, Patrick Ewing, and Michael Olowokandi proceeded Ming), but he was the first whose skills were entirely developed outside of the United States before joining the N.B.A.
Beyond telling about growing up in China, Yao covers how he developed in the Chinese junior basketball leagues, becoming the top player in the country. He covers his international play in the junior circuits, how he got on the N.B.A radar, the negotiations to free him from his contractural obligations to the Shanghi Sharks, his rookie season in the NBA, cultural differences, Shaq and racism, and his family.
And Yao is refreshing in that he's not a self-absorbed primma-donna, gangsta wanna-be, or Nike created product. He's down-to-earth, humble, and witty. It made for a refreshing read.
Introspection: 4
Insight: 4
History: 1995-2004
Readability: 5

Yao: A Life in Two Worlds. Yao Ming with Ric Bucher. Miramax. 2005.