Flying High
By Spud Webb with Reid Slaughter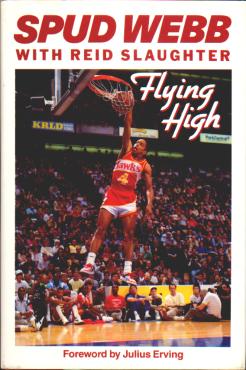 Ranking:
This is an enjoyable book. Well written, easy to follow. It is written in the first person, so you get that feeling of sitting down and listening to someone tell their old war stories. In typical autobiographical style, Webb tells of growing up in the Dallas area, his family life, his school, and his basketball development. He tells of the first time he dunked, but what makes the story different is how he had to overcome doubt. He was cut from the varsity team as a junior in high school and wasn't recruited by Division I colleges when he graduated, even though he was on the All-State team.
He tells of his days at Midland Junior College, where he led the team to a Cinderella national championships and all the adversity (family and friendship crisis) he endured during his second year. He tells of how his faith in God helped him endure the trials, and often in the book, he speaks of the importance of maintaining a clean image and staying away from drugs. Once again, he wasn't recruited much until the improbable happenstance took him to North Carolina State, where he played for Jim Valvano. He also tells of his duel with Wake Forrest Tyronne "Muggsy" Bogues, and how he paved the way for Bogues, as well as a compare-contrast analysis of their styles.
Once again, there was minimal interest in him from the next level. However, after a successful brief stint in the USBL, playing with Manute Bol and John "Hot Rod" Williams, he was drafted in the fourth round by the Detroit Pistons. After being cut, he was picked up by the Atlanta Hawks, where the General Manager had no faith in him, but the coach did. Webb went on to shock the league with his high-octane game, quickness, shooting, and leaping ability. After he won the slam dunk contest, he became an instant celebrity. He went on to hit the series winning free throws against the Detroit Pistons in the first round of the playoffs. Afterward, he briefly sums up the next 2 years in the league and ends it with "strive to attain your goals/I did" speech.
This is a worthwhile read if you are a fan of the man, or of the Mike Fratello-coached Hawks, or even 1980s basketball.
Introspection: 4
History: 1986-1989
Insight: 2
Readability: 5

Flying High. By Spud Webb with Reid Slaughter. Harper and Row. 1988.