Awards - page 3

"I've looked at your site and am pleased to say that it meets the criteria for the Good Start Award."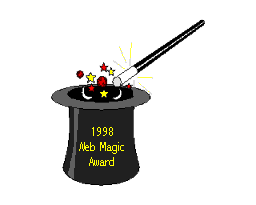 "Congratulations on your EXCELLENT web site." Click here to visit their site.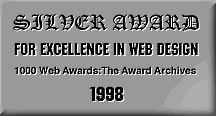 "Congratulations! Your site has won the Silver Award from 1000 Web Awards: the Award Archives."
"Congratulations! Your site has won the Black Sun Award from the Precolumbian Graphic Arts Web Site."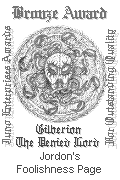 "It is a good quality site and I hope that it fulfils all that you set out to achieve. No doubt that you will receive many awards for a site of this nature."
"Congratulations! After reviewing your site, we are pleased to present you with the Market-Tek Design Award!"

August 19, 1998. "--in all my humility, I award this site as everyone knows I wanna be like Mike."


"I was very impressed by all the hard work you have put into the site and have to congratulate you on an wonderful achievement in web site design, both in appearance and content. Excellent quality of content and ease of navigation."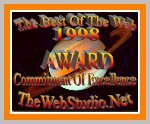 "We have reviewed your site and found it to be creative and full of content. What your site offers is a useful Service to the Internet community. Your site is easy to use, friendly and graphically pleasing! Overall we believe it belongs on our list of award winners. Your site enhances the originality of our internet community." [Note: this award is given to less than 10% of all applicants!]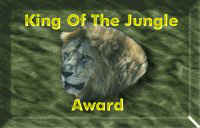 "I just got back from visiting your site and thought it was great! So...Congratulations!!!! You have been selected to receive the "King Of The Jungle" award for outstanding excellence in your web page design."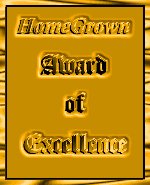 "Your site left me speechless... rich in content... humor or fact?... don't know...don't care... a winning site..definately not another "sports hero" page! You've got a great site.."
"You have done a great job on your website."

"I loved your page."
This site is ranked #4 on the Top 100 basketball sites. Click on the icon to read their review.

"You have been awarded the official No10 award. Yes it is the "Number Ten 10 Star Site! Award" for coolness above and beyond the call of duty for web masters and web mistresses." [No link, because this award (and site) no longer exist.]

" you got one of the better Anti-Jordan pages!" [Note: this award was given for the first EjF page, before it was re-designed]