MORE Checking the Roach Motel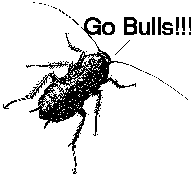 From: <trudty@email.msn.com

I figured out why you don't like Michael Jordan.

I have no bias for or against the foolish and wretched jordon.

1st because he is the greatest player of all time,

I LIKE Wilt Chamberlain. I made a webpage to proclaiming his greatness (see LINKS).

now tell me if he is a "ballhog" then why does every teamate look for him instead of just shooting it.

B.J. Armstrong didn't. He didn't want to the give the ball up in 1995 to a 41% shooting ballhog who came in and ruined the team's chemistry at the end of the season (just to prevent the righteous Pippen from winning the MVP). Look at what happened to B.J. because of it.

2nd if you had Michael Jordan on your team you wouldn't give it to him?

Not if I wanted to win.

3rd he has won every award maginable to get.

Coach of the year? 6th man of the year? Most Improved player? (Although he should have won this in 1989, since that was his only good season.)
How about this: Assists champion? Field goal percentage crown? Rebound leader? D'OH!. Guess he's got a ways to go if he wants to catch Wilt.

4th He's been on every All-Star game.

Well there you have it! I am jealous because jordon has been voted to an exhibition game by a bunch of foolish fans who voted for him. The same foolish fans who voted a non-starter (Bryant) and a no-factor (Penny) this year! Oh, I am so bitter about this! Wilt and Magic also played in every all-star game that they qualified for -- and Wilt wasn't voted in by fans, since fan voting wasn't enacted until later.

5th he's beaten the Knicks so many times in the playoffs.

Pippen and the other Bulls, along with the jordon-jocking refs won the games in spite of jordon. Without jordon, the Bulls didn't miss jordon against the SuperKnicks. However, they did miss the jordon-jocking refs, especially at the end of game 5.

6th if he's the biggest choker, go back to Game 1 of 98' NBA Finals.

How about Game 1 of the 1991 Finals?

7th you can't say he choked at his first game back from retirement because he hasn't played since a year and half before.

Magic laid out 4 years and came back and didn't shoot 20 bricks in his first game back. However, I didn't say jordon choked in that game (even though he did), but rather he brutally attacked Reggie Miller b/c jordon the thug could not stop Miller (See FAQ, specifically, "Why do you make fun of jordon? He's a nice guy").

8th in the 1988 (or something) he beat the cavs in the last shot.

1989. Sheesh, it's sad when I know more about jordon than you jordon jockers. Oops, I forgot, you jordon jockers weren't watching basketball until around 1996 -- 1991 at the earliest.

9th at his first game back against the knicks, the bulls won because of a Michael Jordan assist.

That is because jordon is afraid to take the big shot. Remember the final game of the 1997 season? jordon drives, gets cold feet, and passes it out to a GUARDED Steve Kerr. It amazes me that a ballhog like jordon is afraid to take the big shots. However, it isn't that surprising, since jordon bricks those big shots more often than he makes them.

10th go to NBA.com and go see the page about Michael Jordans game winning shots, then tell me if he's a choker.

Yes, jordon is a choker. He bricks more often than he slops it in. See the FAQ, specifically, "How can say that jordon is the biggest choker of all-time?".

You talk about manipulation from NBC + NBA.com but your doing the samething here.

No. I am equal time. I have no bias for or against Foolish jordon. I promote jordon's restaurant because I am fair and impartial.

Trying to convince people that he is a ballhog and a choker.

OK. Go to the FAQ.

*flush*



From: nobody@planetx.bloomu.edu:

you are the biggest #@!!$* idiot i've eever been associated with in the world of sports.

{Note, Judden edited out his choice of adjective. Judden runs a family homepage.}
Well, considering that I can spell the word "eever" I would have to say that I can be no better than the 2nd biggest idiot. BTW, why can't you spell "ever?" You seem to be proficient with 4-letter words! Oh well, I never try to understand the cockroach brains of jordon jockers.

*flush*



From: MichaelJordan@ldd.net

I am the greatest player of all time......when you get your fat ass out on the court...I will show you.....Magic doesnt really have aids...he just said that cauz he didnt want me to beat him again....and Larry doesnt have a back problem...he saw what I did to Magic and didnt want me to do it to him too.

Looks like I was wrong. It appears Foolish jordon DOES believe his own lies! Either that, or this jordon jocker is delusional. Perhaps, this is a modern day internet version of El Cid? The jordon hype is dead in the light of truth, and Foolish jordon has been strapped to the saddle to rally the roaches one last time? BTW, do you think I should remind Foolish jordon that Larry Bird is 6-0 vs. him in playoff games?

*flush*


From: Brad Holloway <holloway@rocketmail.com>

Give me a break dude. How can you say that Pippen is the real leader of the Bulls

It appears you did not read the FAQ. Foolish jordon jocker. Read first, then ask questions.

.....nothing against Pippen....he is a great player 2nd best in the NBA in my mind.

Let me guess: Dennis Rodman is 3rd? Toni Kukoc is 4th? Luc Longley is 5th? Pippen is a great player, but he is not the 2nd best player in the NBA. Players like Super Patrick Ewing, Super John Starks, Allen Iverson, David Robinson, and Shaq are all better than Pippen. The argument for Pippen is that he wins in spite of jordon's foolishness, but even he needs some help, as was proven in 1995, when he didn't have a rebounder to help him counter jordon's foolish and excessive bricks.

But he couldnt lead the Bulls to a championship the full year that Jordan was gone.

I see you didn't read the FAQ, click here for more details.

Chamberlain may have been stronger than jordan....but how many championships did Chamberlain win??? 1..maybe 2? Could it have been cauz he was a ballhog.

Nope. I proved it in the FAQ. The reason was because he didn't play in a watered-down league. He won 2 legitimate titles against quality competition in a competitive league, unlike jordon, who never came close to a title until Stern watered the league down, so jordon could have meaningless titles. If Wilt had 5-7 Hall of Fame teammates like Russell, he would also have a handful of rings, but Wilt never lost in the finals to a team that had less hall of famers than his team had.

That picture you have of Iverson burning Jordan...anybody can go for a fake once.

Considering Iverson scored 31 in that game, I'd say jordon got faked out more than once.

Go back and see who won that game. Thats right...the Bulls.

So what you are saying is that the Bulls, as a team, was able to overcome Foolish jordon's matador-like defense of Iverson and win in spite of jordon? That is exactly what *I* have been saying all along: The Bulls win in spite of jordon the albatross and having jordon on your team is the same as spotting the other team points. In the Sixers case, they usually get spotted about 30+ per game.

The Bulls have had to fight for all of their championships. They werent just handed to them.

Yeah, like 1996, when they beat the rebuilding Knicks, the injured Magic (Grant + Shaw) and the injured Sonics (McMillan), or are you talking about the injured Lakers (Worthy + Scott) of 1991, or the injured Suns of 1993 (Ceballos)? Stern, not jordon, fought to win their title in 1997, as he saw to it that the team who would have crushed them, the SuperKnicks, would not get past Miami. Stern knew Miami could not beat the SuperKnicks without his help, so he gave it. He knew Miami couldn't beat the Bulls, and the Bulls couldn't beat the SuperKnicks (the SuperKnicks proved it on the final day of the season), so he did everything in his power to guarantee the Bulls the title. I wouldn't be surprised if he planned the event out and informed Pat Riley of his plan, so that Riley would make sure to sick P.J. Brown on Super Charlie Ward.

If you can say that Karl Malone and John Stockton were easy to beat...go ahead.

Well, since I have your blessing...ok. Karl Malone and John Stockton were easy to beat. Considering that Utah only has 3 good players on their entire team, I would say "The Jazz" were easy to beat. Need proof of watered down? That sorry team won 64 games. The 1987 Lakers (with 4 #1 picks, 3 winners of the Finals MVPs, 3 members of the all-time top 50, and the defensive player of the year coming off of the bench) won 65 games...one more victory despite a more talented and deep lineup and championship experience abounding. No wonder Dennis Rodman said that the 1996 Bulls couldn't have won 70 games playing against superior competition from the 1980s. The league is watered down. Drip Drip Drip.

The only reason Jordan didnt win championships in the 80's is because he didnt have any experience yet.

1989 was his 5th year. Sheesh, how much experience does the "greatest player of all-time" need anyway? Magic and Russell each won the title in his rookie year! Bird and Kareem--in their 2nd! jordon couldn't even win a title in his 6th year. By this time, Magic had three and Russell had 5!

Even at such a young age...I remember a playoff game in April of 1986 when Jordan burned Larry Birds Celtics for 63 points.....

And using your Iverson argument...who won that game?

Jordan has wised up now and knows that he has to get all of his teammates involved to win.

Yeah, we saw that in the 4th quarter of Game #5 vs. Utah (1998).

That is what makes him so great.......he is the ultimate clutch player of all time

I'm sorry. You lost me. When did you start talking about Jerry "Mr. Clutch" West?

.....dozens of buzzer beaters....go coutn em.

OK. He has 23 shots, according to your very own jordon-jocking page (NOTE: The address is: www.geocities.com/TheTropics/Shores/5696, however, it appears he is ashamed of his tin god and has removed jordon from his site. I would like to think that my wisdom showed him the light...who knows?). That is not "dozens, but rather "dozen". He DOES have dozens of buzzer bricks. 2-7/12, to be exact. jordon has proven that in the clutch, he more likely to put up a brick than win the game. Cough Cough!

There is more talent in the league right now than there ever has been before....count up how many of the 50 greatest players play today...

10: Malone, Stockton, Super Ewing, Robinson, Olajuwon, Drexler, Barkley, Pippen, Shaq, and Foolish jordon, who did not deserve it (but Super John Starks did). Is this supposed to impress me? 10 players in a 29 team league? Yawn. The 2 teams in the 1973 finals ALONE had 7: Reed, Monroe, Frazier, Lucas, DeBusschere, Chamberlain, and West. Missing the finals that year were: Jabbar, Robertson, Greer, Barry, Hayes, Cowens, Unseld, Archibald, Havlicek, Wilkens, and Thurmond: 18 players on 16 teams (and Erving and Cunningham were in the ABA)...drip drip drip.

The 1987 finals had 7 players playing: Jabbar, Magic, Worthy, Bird, McHale, Parish, and Walton. Missing the finals were: Barkley, Malones (Karl and Moses), Stockton, Drexler, SuperEwing, Pippen, jordon, Erving, Olajuwon, Isiah. 18 players on 21 teams. The league is watered down. Your own argument betrays you: drip, drip, drip.

you would be surprised....

No. You would

and Jordan has beat them all.

Thanks to the watering down effect. That is why he is 0-fer-the 1980s and 2-10 without Pippen in the playoffs, despite having another member of the top 50 (Gervin), along with Oakley and Orlando Woolridge. That is why the Bulls slipped from 57 wins to 55 wins when they replaced jordon with CBA-journeyman Pete Myers. jordon is dead-weight, and not needed to win.

And he will continue to beat them all..til the day he retires. The people that vote for MVP awards are far more educated then you ever will be about basketball so you are the fool....

You jock sportswriters? Nuff said. Look at the Heisman trophy. I rest my case.

*flush*


From: Da Butch (brad@mail.ky.net)

Just a question if Jordan is a no talented overrated player, why does every player interviewed say he is the best ever. Surely they would not be caught up in your theory of NBC crap.

I answered your question, concerning the likes of Bob Cousy. (FAQ) If you think "EVERY" player jocks jordon, you are wrong, as the 2 greatest players of all-time, Wilt Chamberlain and Oscar Robertson, have *BOTH* said that jordon isn't the best. As for the modern players, they learned from Allen Iverson: if you tell the truth about jordon's foolishness (Iverson said he didn't respect Foolish jordon), the jordon-jocking media will crucify the player. jordon runs the league like a dictator. Everybody knows free speech isn't allowed in the NBA. Coaches are fined for complaining about the jordon-jocking officials and Dennis Rodman was fined for voicing opinion about Utah Jazz fans.

Otherwise thankyou for all your statistical crap it made me laugh. You are truly a person who has too much time on your hands to sit around making up this bs. I am a bulls fan but Michael is not my favorite player..Scottie Pippen is. Some of your comments on Scottie are true.

I don't have too much time. However, I am EQUAL TIME to all the jordon-jocking BS you hear from NBC. I have better things to do, but this job is important and somebody had to spread the truth to the masses, so the truly great players of yesterday (Wilt, Russell, Oscar, etc) and today (Iverson, Starks, Ewing, Shaq, etc) would stop being insulted by the media's hype of such a mediocre player. Also, what I said about Pippen was ENTIRELY true. He carries the Bulls. The proof is in the FAQ.

Your Power Points also are seemingly all in favor of Forwards and Centers. So this is a very poor way to rate Guards. Well I've spent too much time writing this...Your not worth my time since you obvisouly are so biased in your thinking.

Yet you "feel the need" to waste your time, anyway? Have you sufficiently pleased master jordon? Do you get a Scoobie Snack for your efforts? Pity, that you didn't try harder--you may have won the "Who's the biggest jordon jocker contest!" BTW, I see Magic at the VERY TOP of the Power Points list (not including partial power points). I see John Stockton, Bob Cousy, and Jason Kidd on the list. Furthermore, like I said, this list isn't EXHAUSTIVE--other guards, like Jerry West rate ahead of jordon as well, but didn't make the list.. Power Points do not discriminate against guards. Your defense of jordon was as poor as jordon's defense against Allen Iverson..

Also, if I am so "biased," how come I have eaten at jordon's restaurant? I am very open minded on matters pertaining to jordon. Because I have eaten at his restaurant, I can say with all confidence and unbias that jordon is a foolish, 1-dimensional ballhog. If you think you are equally unbiased, I ask you: Have you ever eaten at Super John Starks' club in Tulsa, Oklahoma? Yeah, that's what I thought. BTW, jordon's food was very good. THAT should be proof that I do not think everything about jordon is bad. He is a better cook than a basketball player. I know that doesn't sound like much, because he is such a foolish basketball player, but he really is a good cook.

P.S. Don't bother responding to this... you've wasted too much of my time with your crap already.

Sorry, you read the disclaimer.

*flush*


From: Ramesh mEHTA (rimrish@worldnet.att.net)

Jordan is the best basketball player ever to grace the court of the NBA. You web page sucks!!!!!!!!!!!! Bulls all thw way.

23
2323
2323
23
23
23
23
23
23
23
23
2
323
23
23
23
23
23
2
32
323
23
23
2
32
3
232
323
32
23
23
23
23
23
23
23
23
23
23
23
23
2
32
32
3
2
32
3
2

Even when you try and jock jordon, your body betrays you. That means there is still at least one brain cell working. Evidently, the jordon empire (NBC and Nike) hasn't completely taken over your mind. Fight Jean-Luc! By typing '3' you are showing that you agree that Allen Iverson and John Starks are BOTH better than Foolish jordon. Mitch Richmond wears number 2, and he is also better than jordon. 32 was Magic Johnson and Billy Cunningham, both of whom have more Power Points than jordon. I have no idea who wore number 232, 323, and 2323 are. Perhaps, that is a sign that you are losing it.

*flush*


From: Carl 'MJ Fan' Henninger (mjfan@softhome.net)

you suck

I received this particular roach dropping 98 times. Don't you just love the way that jordon jockers so convincingly present their side of an intellectual debate?. Poor kid must have been at a loss without Bill and Ahmad to answer for him. Don't worry, folks, I sent a copy of his e-mail to his system administrator, and told him the story. Yes, there are more roguish ways of dealing with jordon jockers, but Judden is a man of peace who believes in handling these matters in a swift, painless, and efficient matter. If any of you are thinking about exacting vengeance upon him, do not do so. Do not answer a roach according to his folly, or you yourself will be like him.

*flush*


From: ltaylor (ltaylor@digitalexp.com)

Scottie Pippen would be a janitor in arkansas if it wasn't for Michael Jordan teaching him how to play basketball. Where was Dennis Rodman during the first few championships? He was in Texas crying and sleeping with Madonna!! And about Allen Iverson, he should be in prison for the riot he caused in Hampton, Virginia. Tell Allen to smoke another joint! He will never win an NBA scoring title or championship!!!!!!!! Sell your computer and go outside and smell the flowers!!!!!!!!!!! Jordan is the greatest!!!! Please respond second rate nobody!!!!!!!!!!! My address is LTaylor@digitalexp.com Please don't forget you are probably four foot tall and always wanted to be like Mike.!!!!!!!

As you wish, jordon jocker. Where was Rodman during the first few championships? Shining his rings. Where was jordon during Rodman's first few? At home, because Rodman sent him there!!!

If it weren't for Pippen, jordon would never have got out of the first round of the playoffs. The proof is there: 2-9 without Pippen, whereas Pippen is 6-4 without jordon. Like I said, Pippen carries the team.

You may just have a point about Iverson. If he played the Bulls 82 games a year, though, he would be undefeated. Unfortunately, Iverson has to go up against guards who play defense. Who knows, maybe Pippen will come to Philly, and give Iverson the other great player needed to win the title, that they now lack, just like he and Grant/Rodman combined to win 5 titles.

BTW, which Mike do I want to be like: jordon or Tyson? Tough call.

*flush*