jordon to star in "The Shining II"

Click here to hear accompanying sound

Sources have informed us that jordon is close to signing a deal to begin work on his 2nd film, "The Shining II". Details are sketchy, but the script is believed to go something like this:
jordon agrees to become the caretaker of the United Center during the off-season. He takes his wife and his son (actors unknown at this time) to join him. Since jordon is locked in the United Center from July through October, he begins to go stir crazy and becomes even a bigger ballhog than ever before. After what seems like months of temptation (actually, it was the first day--Foolish jordon has no will power), jordon finally snaps and beats down the door of his family's bedroom with an axe and forces them to stand around the basket and rebound his bricks for 4 straight months!
Some of the disturbing scenes include: an elevator opening up, and a horde of basketballs come bouncing out. Another scene features a rotting Isiah Thomas coming up out of jordon's bathtub saying, "Let me kiss your butt. Let me kiss your butt." A third disturbing scene features jordon's wife looking over the autobiography that Foolish jordon has supposedly been working on. On page after page it says, "All shooting and no defense brings jordon more undeserved MVPs."
Pictured below are a couple of scenes from the movie, that our spies have been able to "lift" from David Falk's production studio.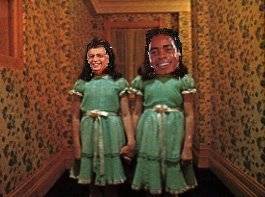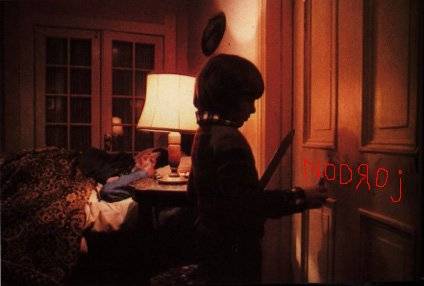 The first is of some "twins" that jordon sees (played by Ahmad Rashad and Commissioner David Stern) tempting jordon to come and "play with us forever and ever and ever." The 2nd is of jordon's son writing a word on the door that he kept having visions of ... right before jordon starts breaking it down with the axe! From the point in which jordon's son first has the vision until this scene, he keeps wiggling his index finger and saying "Nodroj, Nodroj"

Needless to say, this horror masterpiece is not intended for the same type of audience that jordon's first movie, Space Jam, was targeted to.