Who is better than Jordan?

Championships: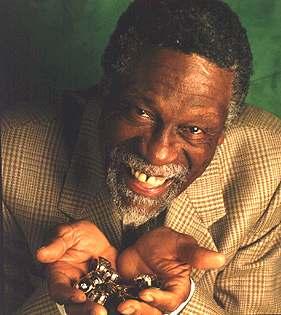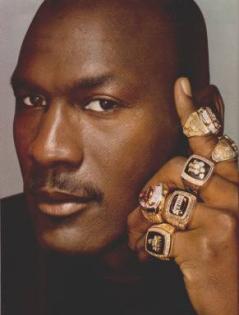 Who has more rings? Put your mouse over the picture and learn the answer.
Bill Russell -- Bill Russell is the greatest winner in the history of team sports. There is no comparing anyone to him. All the guy did was win. In college, Russell won 2 national championships in 3 seasons at the University of San Francisco. When Russell went there, they were a small-time program. They didn't even have a home gym. Under Russell, they won 55 games in a row, to go along with those 2 national championships. During his first championship, he teamed with future Celtic teammate K.C. Jones, but he won the second title without him, and was named the Final Four MVP. Russell went on to the 1956 Olympics and brought home the gold medal.
When he joined the Celtics, they had never won a championship. His first year, he led them to the championship. His next season, they made the NBA finals. Russell was injured in the finals, and they lost the finals. The next eight seasons, Russell won the championship. After this run, he was made player-coach. They lost the next season to Wilt Chamberlain's Sixers in the conference finals. Russell came back in his final two seasons and won two more championships and then he retired. In the first post-Russell season, the Celtics failed to make the playoffs.
In summary:
Russell won 2 championships and had a 55-game winning streak in college
Russell won an Olympic Gold Medal.
In 13 seasons in the NBA, Russell won 11 championships.
The 2 seasons Russell didn't win the championship, he made the NBA finals and the conference finals.
He won 8 straight championships (an octo-peat)

Michael Jordan -- Jordan also played 3 seasons in college with the powerful North Carolina Tar Heels. UNC made the NCAA finals the year before Jordan joined. In Jordan's first season, they won the NCAA title. Unlike Russell, Jordan was not the star of his team. He was a supporting player. James Worthy was the All-American (not Jordan). Worthy was the ACC player of the year, the NCAA regional MVP, the Final 4 MVP and the leading scorer of the NCAA Championship game (28 pts to Jordan's 16). Jordan hit the shot to put UNC on top, and Worthy stole the ball to secure the victory. After that season, Worthy went to the NBA. With Jordan as the leader of the team (he was The Sporting News player of the year the next 2 seasons), Jordan's Tar Heels achieved a #1 and a #2 seed, but failed to live up to their seed, losing in the Sweet 16 and the Elite 8.
Like Russell, Jordan led the Olympic team to the gold medal (1984). Jordan joined a Bulls team, that like Russell's had never won a title. Before Jordan arrived, they were a losing team. In Jordan's first year, they were a losing team (38-44). They made the playoffs with a losing record, where they were defeated in the first round 3-1 by Milwaukee. The next year, Jordan's Bulls had a losing record (30-52), yet made the playoffs again, where they were defeated 3-0 in the first round by Larry Bird's Celtics. The next year, Jordan's Bulls posted their third consecutive losing season (40-42) and were once again swept in the first round of the playoffs against Bird's Celtics.
In his fourth season, Jordan's team finally won more games than they lost, and made it out the first round of the playoffs, where they were defeated by Isiah Thomas' Pistons 4-1. The next year, Jordan's Bulls finished 5th place in a 6-team division, but advanced another round in the playoffs, losing again to the Pistons 4-2. The next year, (Phil Jackson's first as head coach), the Bulls finished in 2nd place and lost in the conference finals 4-3.
After that, the Bulls finally got on top, winning 3 in a row. Jordan came back in 1995, but couldn't get them out of the second round of the playoffs, which is where they finished the year before without him. Afterward, the Bulls won 3 more titles, before Jordan retired for the second time. Jordan came back 2 years later with the Washington Wizards, a losing team. Under Jordan's leadership, they posted the 4th and 5th losing seasons in Jordan's career and failed to make the playoffs both years.
In summary:
Jordan won 1 championship in college, in a supporting role. He failed to make the final 4 in 2 seasons as the team leader of North Carolina.
Jordan won an Olympic Gold Medal in 1984 and 1992.
In 15 seasons in the NBA, Jordan won 6 championships.
The 7 seasons Jordan didn't win the championship, he made the conference finals twice, the semi-finals twice, the first round 3 times, and no playoff appearance twice.
He won 3 straight championships twice.
Final Analysis:
| | | |
| --- | --- | --- |
| | Bill Russell | Michael Jordan |
| Number of Season Played in the NBA | 13 | 15 |
| Number of NBA championships | 11 | 6 |
| Number of conference championships | 10 | 6 |
| Number of times he failed to make the conference finals | 0 | 7 |
| Number of times he failed to make the playoffs | 0 | 2 |
| Number of losing records | 0 | 5 |
| Number of seasons playing college basketball | 3 | 3 |
| Number of Championships | 2 | 1 |
| Number of Final 4 appearances | 2 | 1 |
When Bill Russell is brought up, you see Jordan fans go into ultra-panic mode. Jordan supposedly had a mythical ability to "will his teams to victory", but his achievements are paltry compared to Russell's. Jordan fans will say one (or more) of four things:
First, Russell had talented teammates and he was lucky. There is some truth to this. However, Jordan's teammates were very talented also. How else could they go from a 57-25 record in 1993 to 55-27 in 1994, when Jordan retired? Jordan was replaced with a CBA player, and his team slipped two games. Without Jordan, Scottie Pippen, Horace Grant, and B.J. Armstrong were all named to the all-star team. Without Bill Russell, the Celtics went from the NBA championship to not even making the playoffs. Furthermore, while Russell joined a team in 1956 that had Bill Sharmin, Bob Cousy, Tommy Heinsoln, and Frank Ramsey (all hall of famers), all of these players retired and Russell kept on winning championships. Without him, they never won a championship. Coincidence?
Second, Jordan fans will say without free agency and less teams, it was easier to dominate. This is absurd. Less teams make for a stronger league. It's simple math. If you cut the number of current NBA teams in half and had a draft of their players, the remaining teams would pick up players and cut the worst players on their teams. The result would be that each team would get better. This would strengthen the league. Furthermore, how many key players did the Bulls lose to free agency during the Jordan years? Answer: None. Horace Grant was the only significant loss and he left while Jordan was retired. This argument holds no water at all.
Third, Jordan fans like to claim that if Jordan had not retired, the Bulls would have won eight straight (ignoring that Jordan DID play in 1995 and couldn't win the title), but if Russell had not sprained an ankle, Russell probably would have won 10 titles in a row (and 12 in 13 seasons). Even woulda, coulda, shoulda arguments don't help in the Jordan vs. Russell argument.
Fourth, Jordan fans will say that Russell was not a great offensive player. In his best season, Russell averaged 18.9 ppg on 45% shooting. and 4.5 apg (this assists average is more than Jordan's 1996-98 average, and Russell was a center!). However, this point is moot. You clicked on this link because you compare players based on championships. You obviously think Magic Johnson is better than Larry Bird, even though Bird averaged more points. So what if Russell didn't score 20 ppg? If you want to argue that, then the lesson to be learned is that ballhogging is not the key to winning championships. Everybody with any basketball knowledge knows defense and rebounding wins championships and Russell is the greatest defensive player in history and the second greatest rebounder. If Jordan were more interested in winning than in scoring points, then he would have more championships.
You judge players based on championships. Therefore, you must conclude that Bill Russell is the greatest player in history - not Michael Jordan.
Thank you for playing.