Basketball Stars of 1970
By Louis Sabin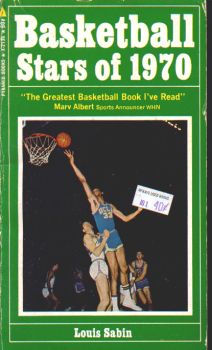 Ranking:
Do you know much about these players: Lew Alcindor (a.k.a. Kareem Abdul-Jabbar), Elgin Baylor, Wilt Chamberlain, Billy Cunningham, Dave DeBusschere, Walt Frazier, John Havlicek, Elvin Hayes, Bailey Howell, Jerry Lucas, Earl Monroe, Willis Reed, Oscar Robertson, Bill Russell, Wes Unseld, and Jerry West? If you do not, then this type of book (one of many in a series) is worth grabbing. Each player has about 5 pages devoted to him, namely how he did the previous season. The book also tells the standings of the previous season, the highlights, and what to look for in the season to come, as well as the stats for all of the players listed. (BTW, I created hyper-links to these players biographies, if you wish to learn more about them).

It's really more of a reference book than biographical, but since all of these players have been retired for over 15 years, then I listed it as biographical. It's a bit dry in the reading, though, which is why I didn't give it a higher rating.
Insight: 2
History: 1969-70
Readability: 2

Basketball Stars of 1970. Louis Sabin. Pyramid Books. 1969.