jordon exposes Sport Magazine's foolishness!
Silly jordon jockers at Sport magazine flaunted their ignorance in just about every way imaginable. This is from their March 1999 issue. My comments are in green.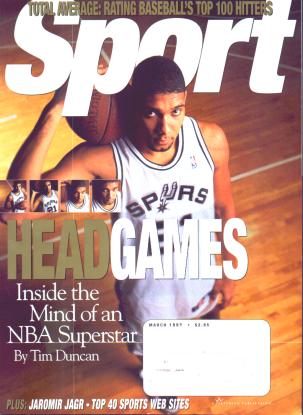 Page 94:
Restaurants:

Michael jordon's The Steak House N.Y.C.
Location: Grant Central Terminal, 23 Vanderbilt Ave., New York, N.Y.
Reservations: 212.655.2300 (Yes, I am including this, so all New Yorkers may partake of jordon's fine cuisine!)
[Ranking: 4 out of 11]
Forgive us for asking, your airness: When you were contemplating the menu for your new steakhouse, did you really ask the chef to include lobster chopped salad with red onions, smoked bacon and tomato vinaigrette on the appetizer list, then tell him to charge $11.95 for it? Not that this rich and peppery dish wasn't tasty. It's just that c'mon, this is something a guy named Francois concocted one day in his summer home on the Mediterranean, right?
No, foolish jordon jocker! A guy named Michael came up with it in North Carolina when he was concocting many of the tasty dishes in his restaurant. Sheesh...they crow on it, yet they say it's good!
We have a hard time believing it was your idea to charge $16.95 for an unimaginative and ineffectual piece of chicken,
What do you want to do with it, jordon jocker -- make out with it? And $16.95 is too much for the tastiest chicken dish you'll ever eat, yet $100+ isn't too much for Foolish jordon footwear? At least jordon himself cooks his tasty dishes, instead of letting child labor make it for him.
and I know it wasn't you who told the chef to serve a "medium" filet mignon so raw that the cow bell was still attached.
Now you know how jordon's posterior feels from all of you jordon jockers constantly kissing it!
No, none of this overpriced, spotty food could have been the work of a man as great as you.
Oh, please. He maybe a great chef, but don't jock the guy beyond that. He is foolish and weak -- especially on the basketball court!
We prefer to believe you only had a hand in the glorious desert menu, one that features a vanilla cheesecake so divine it had us squealing in pleasure,
That's not the first time jordon made you squeal with pleasure!
a mud pie so rich it could pay your salary for a year, and an ice cream sundae so chock full of brownie bits, crunchies, chocolate swirl and other scrumptious goodies that we'd sell our soul to the L.A. Clippers for another bite. Yes, let's just pretend that's the case. It's the only way we can keep that dastardly mac-n-cheese down.
And they end with stupidity! jordon's mac-n-cheese is 2nd to none!