The Big O
By Oscar Robertson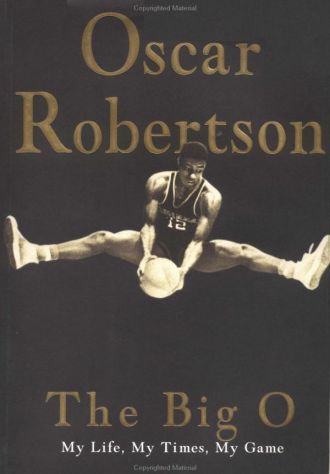 Ranking:
This is the book I have waited for the longest. Of the short list of who I think are the greatest basketball players ever (Wilt Chamberlain, Robertson, Larry Bird, Magic Johnson, Michael Jordan, Bill Russell, and Kareem Abdul-Jabbar), he is the only one not to have written his memoirs...until now.
He tells part of his family history, back to his great-grandfather, who ran a farm in the south, where Robertson and his brother would work during the summers (and where he bulked up in strength), and growing up in the projects of Indianapolis, along with his brother's heroics at Crispus Attucks High School that proceeded Robertson's own heroics.
The accolades of Robertson alone make for an interesting story. His sophomore high school team lost in the state semi finals to tiny Milan, the team that inspired the movie "Hoosiers"). He won the championship each of the next two years and was selected as "Mr. Basketball" for Indiana his senior year. He was the most highly recruited player in the country and selected the University of Cincinnati, a relative unknown. That was one of the many interesting points of his career. He led the Bearcats to 3 straight Missouri Valley Championships and led the nation in scoring each season, and set an NCAA record that would last until "Pistol" Pete Maravich would eclipse the record 10 years later.
After leading the U.S. Olympic basketball team to a gold medal in Rome in 1960 (arguably the greatest amateur Olympic team ever), he began his incredible NBA career, which included rookie of the year honors, 8 first team all-NBA honors, 6 assists titles, and a NBA championship. He averaged a triple-double over the course of 5-seasons and is the only man to ever average a triple double for an entire season. He is also the only player to lead the league in points per game, assists per game, and free throw percentage in the same season. He was easily the most complete player to ever play the game and in the hypothetical "inch-for-inch" category, he was also the best. Anyone who doesn't list him as one of the 5 greatest players in history simply does not know basketball.
Along with covering his seasons in the league, he goes into detail about the struggle the players had against the league's management and how he led the NBA players union as president for over 10 years. He headlined the lawsuit Oscar Robertson vs. The NBA, which prevented the NBA and ABA from merging before 1975, and got rid of the reserve clause, opening the path for free agency.
He also covers the ineptness of the Cincinnati front office and how he eventually wound up in Milwaukee, where he teamed with Kareem Abdul-Jabbar for a championship. He also goes into his post-NBA life: from his job as an announcer, to becoming a successful businessman who runs many businesses, and even his kidney transplant he gave to his daughter.
Most enlightening to the book is the topic of race. He does come across as bitter and unforgiving. To some, he may sound like he's full of sour grapes, but you have to remember that he lived in a different time, and while civil war revisionists like to pretend that the north was a haven for African-Americans, Robertson shows that it was anything but that. He grew up in Indianapolis and went to a segregated school. When he won 2 championships, his team was not allowed to follow the traditional parade route of the state champions in Indianapolis. He even points out in the making of "Hoosiers", Hollywood paints a picture of hard-working white basketball players from Hickory against an all-black athletic team from South Bend. However, in reality, Milan defeated Muncie Central, was an integrated team with two black players. He saw racism rear its ugly head in the recruiting process and especially in college ball, where he faced malicious slurs on some courts and wasn't allowed to eat at some restaurants or stay at other hotels. Although society has come a long ways, as he points out, we still have a long way to go, as he shows the racism he's faced throughout his life, through his NBA career and retirement.
While the subtitle of the book may sound generic, "My life, my times, and my game" is really appropriate, as he goes into great detail on each topic. This is a book that was worth the wait.
Introspection: 5
Insight: 5
History: 1954-1972 (basketball timeframe)
Readability: 4

The Big O. Oscar Robertson: My Life, My Times, My Game. Rodale. 2003.